Copper Silver Ionisation Effect On Legionella
At ProEconomy, we have been researching
Legionella
and Copper and Silver Ionisation for over 25 years. Therefore, we have built up a substantial data bank that proves the efficacy of Copper and Silver Ionisation for
Legionella control.
Legionella pneumophila is a disease-causing microorganism well known for causing Legionellosis (Legionnaires' disease and Pontiac fever). It is particularly dangerous for hospital patients that have a compromised immune system. L. pneumophila can survive in water temperatures from 0°C to 63°C (Nguyen et al. 1991), with an optimum growth range between 38°C and 46°C. It thrives and multiples rapidly in untreated or ineffectively treated water. It finds its way into a human system when it is inhaled as aerosols emitted by showers, taps cooling towers and fountains.
Cases of Legionnaires' disease have quadrupled between 2000 and 2014 in the USA and are still on the rise (Figure 1). Therefore, it is important to be aware of it and have a robust system in place to control Legionella. More cases occur in the summer than in other times of the year because Legionella thrives in warmer water temperatures commonly seen in summer months.
The number of reported cases of Legionnaires' disease in England and Wales between 1 January and 31 December 2016 was 496 (PHE 2016).
You can find out more about Legionella here.
Effective Legionella Control Using Copper and Silver Ionisation
ProEconomy have been analysing water since 1993. Our results show that when silver ion concentrations at outlets are maintained between 0.02 and 0.08 mg/L and copper ion concentrations between 0.2 and 0.4 mg/L, Legionella contamination is avoided.
Much more research proving the efficacy of the Orca system is available. In fact, Dr Birgitta Bedford, a founder member of ProEconomy who has a PhD in Legionella control, has compiled a list of over 40 scientific papers that support copper and silver water ionisation.
Data sets from hospitals using the Orca system demonstrate excellent control of Legionella. An example is given in Figure 2 (Barbosa & Thompson 2016). The graph records results for a large hospital on the outskirts of London and show 100% control for the last 15 months.
You can find out more about Legionella control with our Orca copper silver ionisation system, here.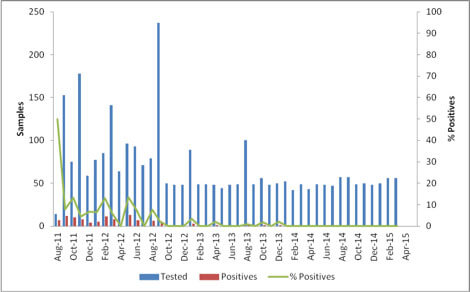 Copper Silver Ionisation Effect On Legionella: The Evidence
Conclusions from a study carried out by the University of Pittsburgh, USA (Lin et al. 1998) stated that for Legionella control, copper and silver ionisation outperformed conventional treatment techniques. This included hyperchlorination, chlorine dioxide, superheating and flush and UV light systems. This was due to the following advantages:
Installation and maintenance are easy.
Efficacy is not affected by high water temperatures, unlike chlorine dioxide and UV light systems.
Residual disinfectant protection occurs throughout the system, unlike UV light.
Recolonisation is delayed as the copper and silver ions kill rather than suppress Legionella bacteria.
A study into the long-term (5 to 11 years) efficacy of copper and silver ionisation for Legionella control in 16 hospital water systems concluded that it reduced the incidence of hospital-acquired Legionnaires' disease. Furthermore, CSI was the only modality to fulfill all evaluation criteria that the USA recommend are applied to Legionella control approaches (Stout and Yu 2003).
Find Out More About Copper Silver Ionisation
How Copper and Silver Ionisation Works
Copper Silver Ionisation Effect On Biofilms
Copper Silver Ionisation Effect On Pseudomonas
Copper Silver Ionisation Effect On S.Maltophilia
For more information on our
copper silver ionisation,

please fill in the form below.