Care Home Water Treatment
Why Do Care Homes Need Water Treatment?
Those who are immune-compromised, or people over the age of 55, are more likely to contract Legionnaires' disease, the disease most commonly associated with Legionella, making care home residents more susceptible to the water borne bacteria. Conseqently, insuffient water treatment can lead to the severe illness and sadly even fatalities amongst care home residents.
Adding to this, an outbreak of Legionnaires' disease in a care home damages the reputation of the care home and breaks the trust and confidence of residents and their families, both of which are difficult to rebuild. Consequently, care home water treatment is vital to control Legionella, Pseudomonas and other water-borne pathogens, protect residents, uphold a high level of service and care and safeguard the care home's reputation.
If you would like more information on care home water treatment or to receive a free water site survey for your care home to detect any Legionella control issues, please fill in the form below. Alternatively, give us a call on +44 (0) 1525 854111.
. Alternatively, you can see how we are effectively controlling Legionella in Oakwood, Saxon Wood and Woodlands House care homes in our case study below.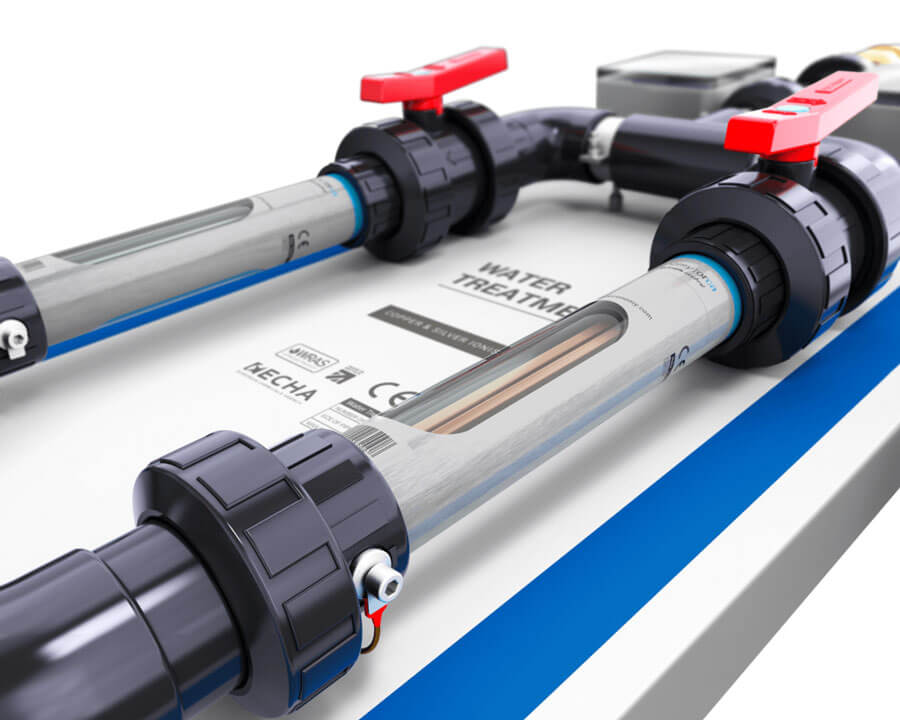 How Can ProEconomy Provide Care Home Water Treatment?
Our copper silver ionisation system is successfully controlling Legionella in care homes and protecting residents across the UK including in Oakwood, Saxon Wood and Woodlands House care homes whose case studies you can read below. Meanwhile, our cloud-based water management system is simplifying the way that water samples are taken at care homes and allowing facilities manages to easily manage their water risk. Through our combined water treatment and management service, we are able to implement the following water safety benefits for care homes.
Alternatively, you can see how we are effectively controlling Legionella in Oakwood, Saxon Wood and Woodlands House care homes in our case study below.
Resident Safety
Found in water droplets, Legionella bacteria is a large water safety risk for the healthcare industry as a whole. As most care home residents fall into the high-risk category for contracting Legionella, i.e over 55, immuno-compromised, or suffering from pre-existing health conditions, water safety is especially vital for care homes as it has the potential to contaminate care home residents making them seriously ill or even causing death.
By using our copper silver ionisation system for care home water treatment, facilities managers can guarantee the safety of residents.
Reliability
An outbreak of Legionella at a care home can be detrimental for the care home. As well as the primary concern of resident safety, care home reputation and the care home or trust's finances can also be hugely impacted by a Legionella outbreak. Therefore, it is vital that care home water treatment is reliable and compliant. Our advanced water treatment and management service can provide just that.
Our Orca copper silver ionisation system is effectively controlling Legionella at prestigious sites across the UK, while our Tetras water management system is proving to be a cost and time saving resource that is improving water management for care homes. Adding to this, our client relations team offer high levels of customer service and are always on hand to offer water treatment advice and resolve problem outlets.
Low Carbon, Low Cost Water Treatment
Recent studies have proven that the Orca system is scientifically proven to effectively control Legionella at low temperatures. As a result, care homes can benefit from lower energy consumption and lower cost as well as proven Legionella control. This is particularly beneficial given the government's plans to become carbon neutral by 2050 and given the healthcare sector's ever-tightening budget.
Advanced Water Analysis
Our water management system, Tetras, allows our clients to see all of their water sample results in an easy to use online dashboard. From individual outlet results to site wide results, facilities managers can oversee their water safety and highlight problem outlets so that water quality issues are detected and therefore treated before contamination occurs. In this way, our water management system can save care homes time, money and resources without compromising on water safety.
Compliance
The healthcare industry as a whole is under increased scrutiny when it comes to infection control. Regulated by the Care Quality Commission as well as Legionella control bodies, care homes must meet strict regulations which poses a difficult challenge for facilities managers. As Legionella control experts and from years of experience working with care homes, we are well aware of industry compliance standards. Therefore, we can ensure compliance across the board to help facilities managers run a more reputable, trustworthy care home that keeps its residents safe from water-borne bacteria.
Care Home Case Studies
You can read our latest Legionella control case studies below.
For more information on
Legionella control in care homes,

please fill in the form below.