About The KB+ Water Treatment System
Being modular, the KB+ can come with any configuration of 6-pod manifolds to match the water flow rate. We have, for example, KB+ units that run at 500 litres per minute using three 6-pod manifolds, but also have fitted systems that cope easily with 700 litres per minute and have 4 x 6 pod manifolds and 2 KB3 modules. As you'd expect, the KB+ comes with touchscreen technology and data downloading functionality, is programmed with our descaling software and is compatible with both Modbus BMS and our new self-adjusting pods.
The KB+
Copper Silver Ionisation
Flow Rate
400+lpm
Number of Silver Pods
2+
Number of Copper Pods
10+
Pipe Size
1.5 inch
Water Pressure
9 bar
Width
see schematics
Height
see schematics
Depth
see schematics
Touchscreen
Yes
Anti-scaling
No
See Developments Below
Self-adjusting
Yes
See Developments Below
Data Downloading
Yes
See Developments Below
BMS Compatible
Yes
Modular
Yes
Remote Access
Yes
See Developments Below
Flow Rate: 400+lpm
Number of Silver Pods: 2+
Number of Copper Pods: 10+
Pipe Size: 1.5 inch
Water Pressure: 9 bar
Width: see schematics
Height: see schematics
Depth: see schematics
Touchscreen: Yes
Anti-scaling: No
Self-adjusting: Yes
Data Downloading: Yes
BMS Compatible: Yes
Modular: Yes
Remote Access: Yes
Manifold
KB3 Module
Warranty
ProEconomy is proud of its quality assurance process as well as the high standard of its water treatment system.
If an Orca system is purchased with our standard maintenance package then we will guarantee it for a period of 5 years from the date of installation. During this period ProEconomy will replace any parts that fail (excluding consumables) and will assure the continued operation of the water treatment system (see terms and conditions).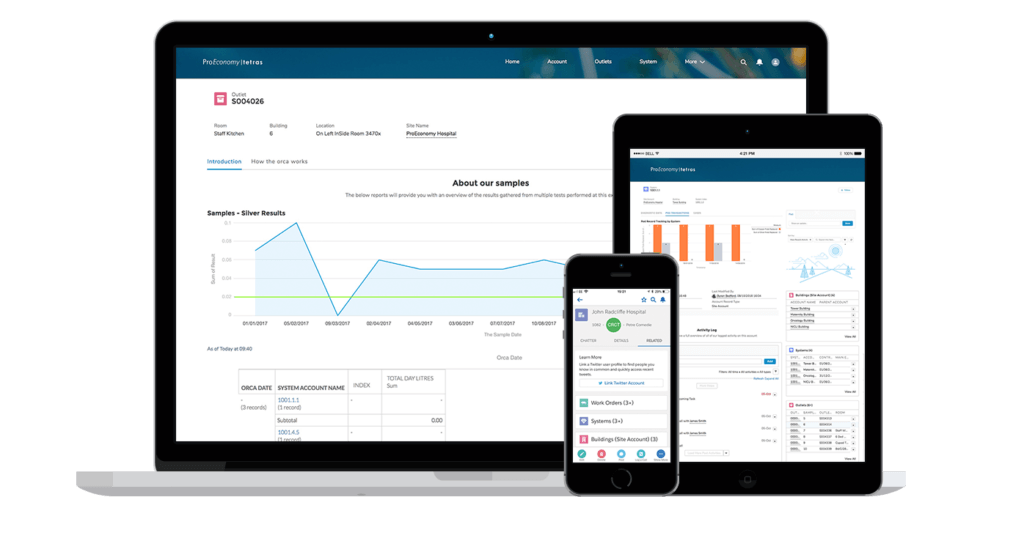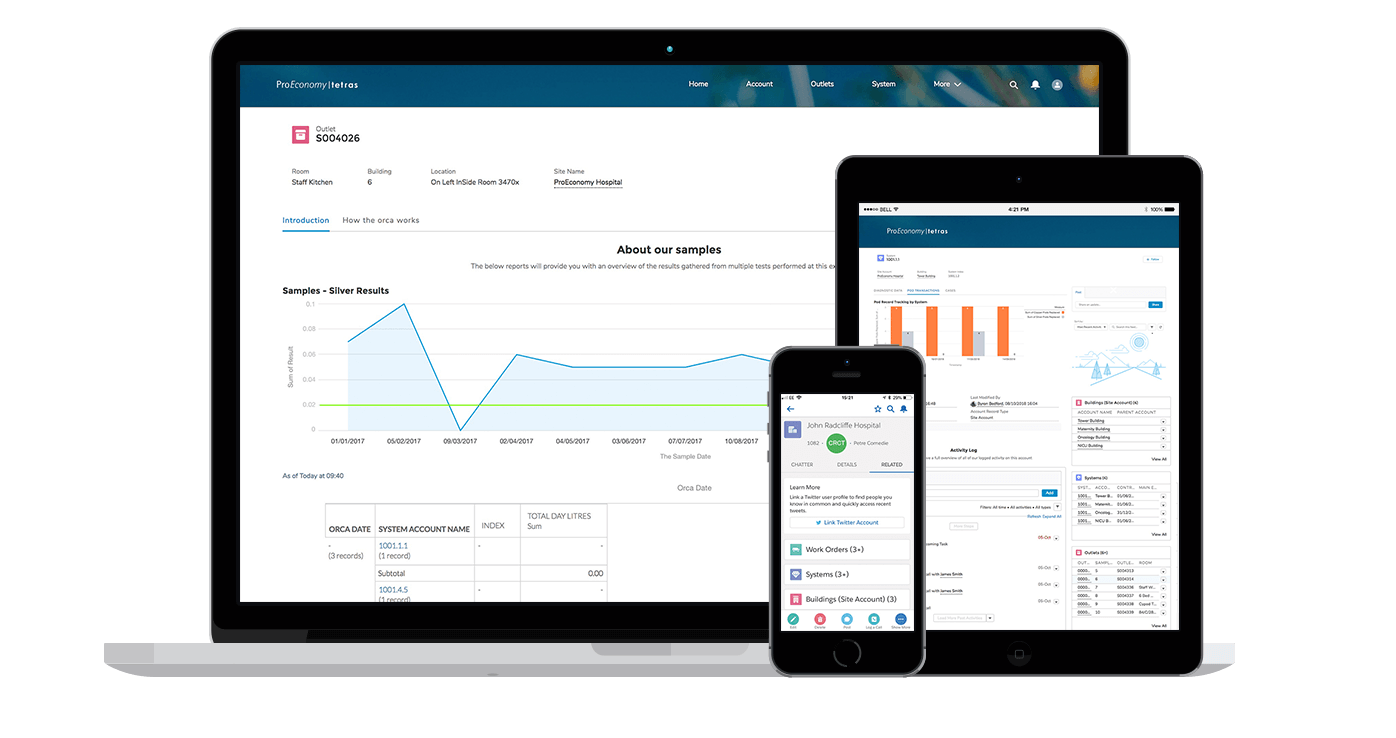 Tetras Water Management System
Tetras is our new cloud-based water management system that is revolutionising the way water samples are taken, tracked and analysed. The bespoke, online system allows you to use your desktop, tablet or smartphone to view where and when water samples were taken, together with the corresponding laboratory results as soon as they become available. Furthermore, you can analyse site wide data or individual outlets and display results in a variety of ways, making potential issues easier to identify.
Our Tetras water management system is compatible with all our Orca systems and comes free with the installation of any system. It's just another way we provide an advanced water treatment and management service for our clients.
Developments to our Water Treatment System
ProEconomy has a policy of continuous development of the Orca system to make it the very best and ensure full compliance and Legionella control. Over the years innovations have included:-
Anti-scaling. Proprietary software that reduces scale build up on the electrode surface.
Low-flow software. Low water flow rates can increase the rate of scaling to very high levels. Software developed by and unique to ProEconomy counteracts this very effectively.
Self-adjusting. Automatically adjusts the current between the copper and silver electrodes to compensate for changes in electrode wear.
Touch-screen Technology. Making the system very user-friendly.
Monitoring and diagnostic information. Available for one year. This allows comparison with norms so that problems such as leaks, etc. become immediately apparent.
Connection to building management systems. Is available, allowing continuous monitoring.
Self-diagnostic fault detection. If a problem is detected the system will either try and clear it or, if it can't, will shut down and transmit an error message.
Multiple ionisation legs. On bigger systems - if one pod fails the others are programmed to take up the load.
Overload detection and safe mode operation. If the system runs at over 90% of its full capacity for more than an hour it reduces down to 10% for the next hour, preventing overheating.
Data-downloading. System data (flow rates, errors, utilisation) can be downloaded to our Tetras system for review by the client remotely.
Remote Access. Remotely monitor and modify the Orca system via our Tetras Client portal. Please get in touch for details.
Pod Cartridges The electrodes within the pods can be easily removed for cleaning and changing. ProEconomy are the only company that offers this functionality.
For more information on our
Orca KB+ copper silver ionisation system,

please fill in the form below.