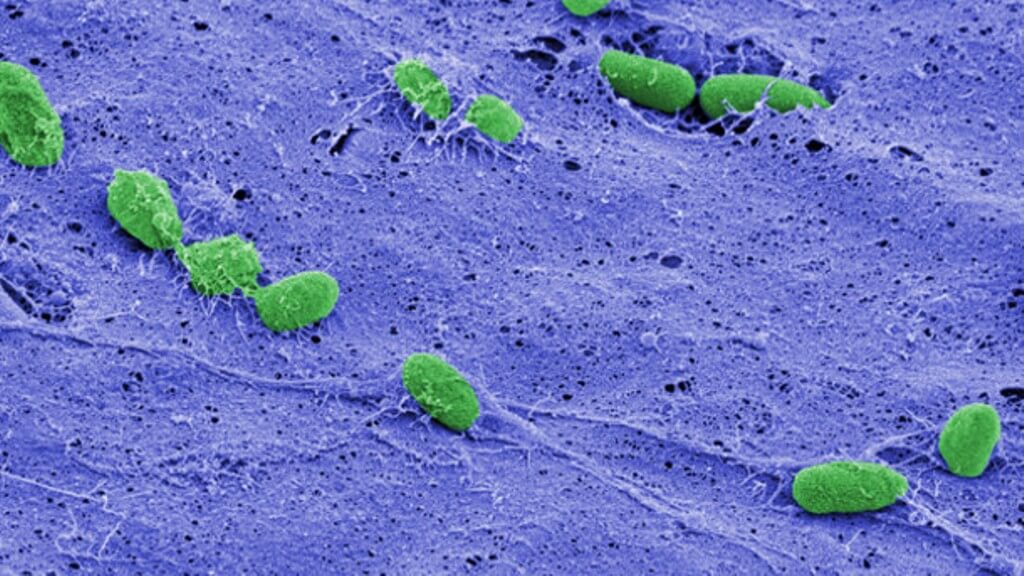 Image credit: Debra Weinstein, Sao-Mai Nguyen-Mau, and Vincent Lee
This blog is authored by guest blogger Dr. Vera Barbosa (Consultant Research Scientist and Writer) and was first posted on her LinkedIn page on 6th February.
Pseudomonas aeruginosa is a common biofilm-forming Gram-negative opportunistic bacterium with extensive metabolic diversity, which allows it to thrive in a wide variety of environments and nutrient sources. Hospital water is a recognised source of the pathogen, but it is a common cause of both community-acquired and hospital-acquired infections. P. aeruginosa is implicated in diseases especially of the lungs and thus need to be controlled in healthcare facilities, particularly in augmented units.
Copper and silver ionisation (CSI) is recognised as a technology which has been widely studied (Perez Cachafeiro et al. 2007, Dziewulski et al. 2015, Shih et al. 2010, Walveren et al. 2015) and used to successfully control Legionella in hospitals (Stout and Yu 2003). CSI has also been shown to control other pathogens including P. aeruginosa and thus this study evaluated the effectiveness of copper and silver ionisation for the control of P. aeruginosa in water outlets of seven UK hospitals over a four-year period.
Samples from outlets identified as being at risk were taken for analysis for P. aeruginosa, following procedure recommend by the DH Estates and Facilities Division and for copper and silver by Inductively Coupled Plasma-Optical Emission Spectroscopy/Mass Spectrometry.
The results showed that of 6278 samples analysed between 2012 and 2016, a total of 553 (8.8%) were positive for P. aeruginosa, with over 70 samples showing less than 100 cfu/ml. The percentage of positives for individual hospitals ranged from 1.3 to11.4% (Table 1).
Copper and silver ionisation controlled P. aeruginosa better in some of the hospitals studied than in others, nevertheless, adequate control of P. aeruginosa was achieved in all hospitals, with one hospital showing only one positive out of 125 samples analysed throughout a whole year with 9 cfu/100 ml.
Table 1 – Pseudomonas aeruginosa Summary Data for 7 Hospitals
It was concluded that copper and silver ionisation is effective for P. aeruginosa control and it is recommended that the system is regularly monitored to ensure the required concentration of ions is maintained. Monitoring should not be a difficult task since the latest version of the system can be monitored remotely.
The full version of this paper is going to be submitted and hopefully published in a peer-reviewed journal in the near future.
References
Perez Cachafeiro S, Mato Naveira I, González Garca I (2007) Is copper-silver ionisation safe and effective in controlling legionella? J Hosp Infect 67:209-216.
Dziewulski, DM, Ingles E, Codru N, Strepelis J, Schoonmaker-Bopp D (2015) Use of copper-silver ionization for the control of legionellae in alkaline environments at health care facilities. American Journal of Infection Control 43:971-6.
Shih H-Y, Lin YE (2010) Efficacy of copper-silver ionisation in controlling biofilm- and plankton-associated waterborne pathogens. Appl Environ Microb76(6):2032-2035.
Stout JE, Yu, VL (2003) Experiences of the first 16 hospitals using copper-silver ionization for Legionella control: implications for the evaluation of other disinfection modalities. Infection Control and Hospital Epidemiology 23(8):563-568. 
Walveren N, Pool W, Chapman C (2015) The dosing accuracy of copper and silver ionisation systems: separate high purity copper and silver electrodes versus copper/silver alloys. Journal of Water Process Engineering 8:119-125.
Photo description: The above micrograph shows a false-coloured image of individual cells of P. aeruginosa (green) resting on the fibrous surface of a biofilm (purple) that helps protect cells beneath its surface. At top right, two cells incorporated within the biofilm peek out from a fissure in the film's surface.
Link to LinkedIn post.
html