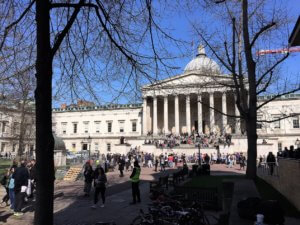 Scientific research is key to give clients evidence about a product's performance. Consequently, ProEconomy are embarking on a research collaboration with two of London's top universities, University College Global University and Kings' College London.
Last week, Wednesday 21st March, we went to University College London's CEGE Department to watch the MSc students' final presentations of their projects towards their Masters' degree. And what a delightful afternoon it was!
Upon arrival, 'Scream Day' was happening, so there were more students populating the Quad than usual. Scream Day means going outside and screaming, literally! I guess the students needed this stress-relief exercise after the exams season.
We entered the Chadwick building for attending the presentations, as well as savouring delightful snacks and sipping good vino. (There was a water shortage at one point but the wine was still flowing!)
Overall, there were great presentations from UCL students and we are pleased that ProEconomy can be a part of their MSc degree studies.
There were projects for various organisations, such as KDI, CAPSUS and the Salvation Army, on a variety of subjects – from urban flooding, waste and energy, phytoremediation and sustainable shelter for the homeless. Among these was a project on water treatment using copper and silver ionisation, which used the ProEconomy Orca system.
Copper and Silver Ionisation Projects
Copper and silver ionisation (CSI) is recognised as an effective technology which has been widely studied (Perez Cachafeiro et al. 2007, Dziewulski et al. 2015, Shih et al. 2010, Walveren et al. 2015) and used to successfully control Legionella in hospitals (Stout and Yu 2003). CSI can also control other pathogens including Pseudomonas aeruginosa and Stenotrophomonas maltophilia. Thus, the projects carried out by UCL MSc students evaluated various aspects of CSI.
The students investigated the effectiveness of CSI for the inactivation of microorganisms such as P. aeruginosa and S. maltophilia, and viruses using the bacteriophage MS2 and its host E. coli. They also looked at how effective the technology is at preventing biofilm formation, disrupting existing biofilms and whether corrosion of water pipes could occur. The results will be available in industry magazines and web articles, so watch this space!
A Preview Of The CSI Results
The results for the phage inactivation showed a 50% inactivation rate of MS2 in the initial 1.5 h when treated with copper and silver ions compared with tap water control.
As mentioned, one project aimed to determine whether corrosion could occur when using copper and silver ionisation for pathogens control. From ProEconomy's nearly 25 years of experience with CSI, corrosion of pipes due to ionisation was never found to occur. However, the topic was included in the projects list to confirm and guess what – no corrosion was found to occur in this study.
The Salvation Army – Project Malachi
There was one other project which had nothing to do with CSI.  However, it caught our attention because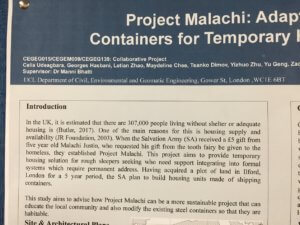 of the heart-warming aspect of it.
'Project Malachi: Adapting shipping containers for temporary housing solutions' was born from a £5 gift voucher from a little boy called Malachi. Malachi decided to donate his tooth fairy money to the Salvation Army to go towards providing shelter for the homeless. See the details about the project in the picture on the right.
Future Research Collaboration
We have a few ideas for future projects collaboration with UCL, KCL, Liverpool John Moore's and Cranfield Universities. One of these is looking at the effectiveness of water treatments in cruise ship.
As reported in an article in the media this week, the Centre for Disease Control and Prevention (CDC), reported that between 1977 through 2012 there were at least 83 ship-associated cases of Legionnaires' disease reported in the literature. These included outbreaks on 8 ships and at least 6 deaths. Senior citizens make up a large proportion of a cruise ship's population. They are within the age bracket (50 years or older) which is most vulnerable to contracting Legionnaires' disease, if they inhale water droplets containing legionella bacteria. Therefore, monitoring legionella in ship water is important.
References
Perez Cachafeiro S, Mato Naveira I, González Garca I (2007). Is copper-silver ionisation safe and effective in controlling legionella? J Hosp Infect 67:209-216.
Dziewulski, DM, Ingles E, Codru N, Strepelis J, Schoonmaker-Bopp D. (2015). Use of copper-silver ionization for the control of legionellae in alkaline environments at health care facilities. American Journal of Infection Control 43:971-6.
Shih H-Y, Lin YE (2010) Efficacy of copper-silver ionisation in controlling biofilm- and plankton-associated waterborne pathogens. Appl Environ Microb76(6):2032-2035.
Stout JE, Yu, VL (2003) Experiences of the first 16 hospitals using copper-silver ionization for Legionella control: implications for the evaluation of other disinfection modalities. Infection Control and Hospital Epidemiology 23(8):563-568. 
Walveren N, Pool W, Chapman C (2015) The dosing accuracy of copper and silver ionisation systems: separate high purity copper and silver electrodes versus copper/silver alloys. Journal of Water Process Engineering 8:119-125.
Blog post written by guest blogger, Dr V L Barbosa, who coordinates research between ProEconomy and universities.