Already 'very compliant', a hospital trust has taken its Legionella and Pseudomonas control and monitoring to the 'next level'.
"It's all about patient safety," says Peter Arnold, estates maintenance manager at Royal Bournemouth and Christchurch Hospitals NHS Foundation Trust. "We're now using ProEconomy's Tetras water management system. It's the next step forward. It's a great tool to monitor your water system to ensure statutory compliance.
"Most hospitals will find it gives them a huge saving on laboratory costs. At least 50%. And that's all you pay. The water sampling, laboratory testing, desktop reporting and analysis of the results is all part of the package.
"As well as the cost saving, hospitals will free-up their own engineers from sampling – it's all done by ProEconomy – leaving managers free to concentrate on other tasks. All the information, graphs and trend analysis are on your desktop."
Peter explains: "As a department we were very traditional. We operated a temperature regime for Legionella control. Seven or eight years ago we had an inspection by the Health and Safety Executive (HSE), which resulted in a couple of improvement notices. Despite our following the advice of our water hygiene consultant at the time, HSE said that the escalation was insufficient if there was an issue, and that we were not looking hard enough.
"We addressed those issues and HSE said we now have a very compliant system, but it was all paper based."
Outlining the earlier practice, Peter explains: "The maintenance team used probes to take the temperature when they took water samples. The samples were sent to Public Health England. It was expensive. With our new consultant, Philip Lonsdale, our Authorising Engineer (Water), we developed a spreadsheet, we call it our "issues log". It's like a tracking tool. In consultation with our infection prevention and control team, we devised a risk analysis, ranking every area for susceptibility. We've been using the 'issues log' for about seven years. We really don't need to, but we're still using it alongside the Tetras monitoring system.
"We want compliance," says Peter. "It's all about patient safety – especially water. Water affects everybody in the hospital, and everybody has a part to play – whether it's the chief executive or the domestic flushing the taps, and everybody in between – nursing staff, estates, infection prevention and control. We're all very key to water safety. One of the big things we did learn from the HSE inspection is that it's not an estates issue, it's a trust issue. So, we always escalate and keep everyone informed.
"We've dealt with any issues by engineering or local chemical disinfection but continue with the temperature regime. We're constantly looking at options and have investigated some other systems."
Sometime after the HSE inspection, a water sampling company approached the trust offering to take the water samples and arrange the laboratory testing at a reduced cost. The trust entered into an arrangement and looked forward to reaping the benefits. However, while there were cost and labour savings, there were issues – delays, results not in on time and e-mails not sent. It did show a cost and labour-saving, but the service was not as good as with Public Health England.
Having seen a presentation on ProEconomy's Orca Legionella control system at an IHEEM Southern Branch meeting, Peter visited the company's display at last year's Healthcare Estates conference. He was introduced to Tetras by Byron Bedford, the company's CEO.
Byron explains: "At ProEconomy we've been carrying out water sampling for over 25 years. We use that experience and the latest technology to redefine Legionella sampling and management with our Tetras water management system.
"Our City and Guilds accredited technicians will sample your site's water following the BS7592:2008 standard for Legionella and record water temperatures whenever a sample is taken, barcode the outlet and barcode each bottle. Your water sample is analysed in external UKAS approved laboratories. With the high volume of samples that we take, we have negotiated heavily reduced rates for the analysis. This enables us to offer hospitals a standard charge. Samples are just £20 each. Whereas laboratory charges can typically be £35 per sample to hospitals who go direct.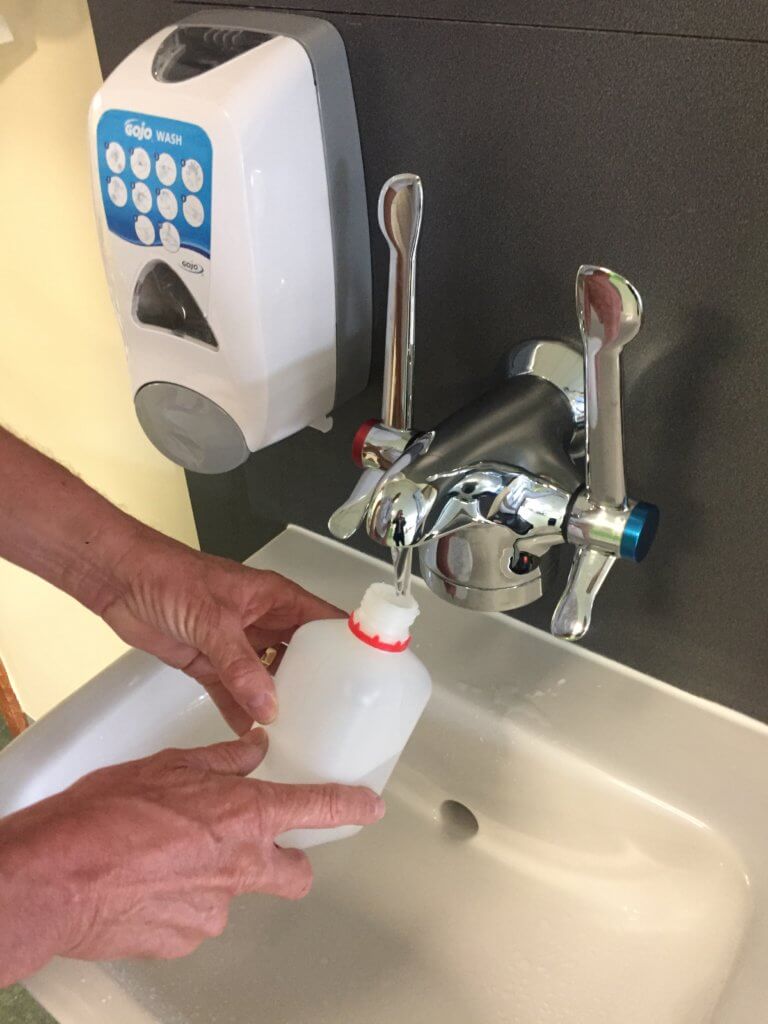 "You don't have to be a tech wizard to use Tetras. It's all very simple and straightforward. There's no filing required. It's paperless. With the cloud-based Tetras software, you can see the results of the analysis within your easy to use online dashboard. You can view real-time sample results and trend site-wide results over time to detect water risks down to individual outlets and thereby run a compliant site.
"You can log on from any terminal and see all the formats," says Byron. "We send a breakdown of all the analysis at the end of the month. You also receive automatic e-mails. We flag up any issues, indicating critical ones as 'High Priority'."
Byron adds: "We do offer water sampling and management using Tetras as a standalone service. Several users, such as Royal Bournemouth and Christchurch Hospitals NHS Foundation Trust, have taken this option. However, Tetras comes free with the installation of our Orca water treatment system, providing an advanced water treatment and monitoring service."
Taking up the story, Peter explains: "What drew us to Tetras immediately are the graphics and trend analysis. Our current 'issues log' system is based on Excel, so it's difficult to produce pictures and graphics to illustrate the message.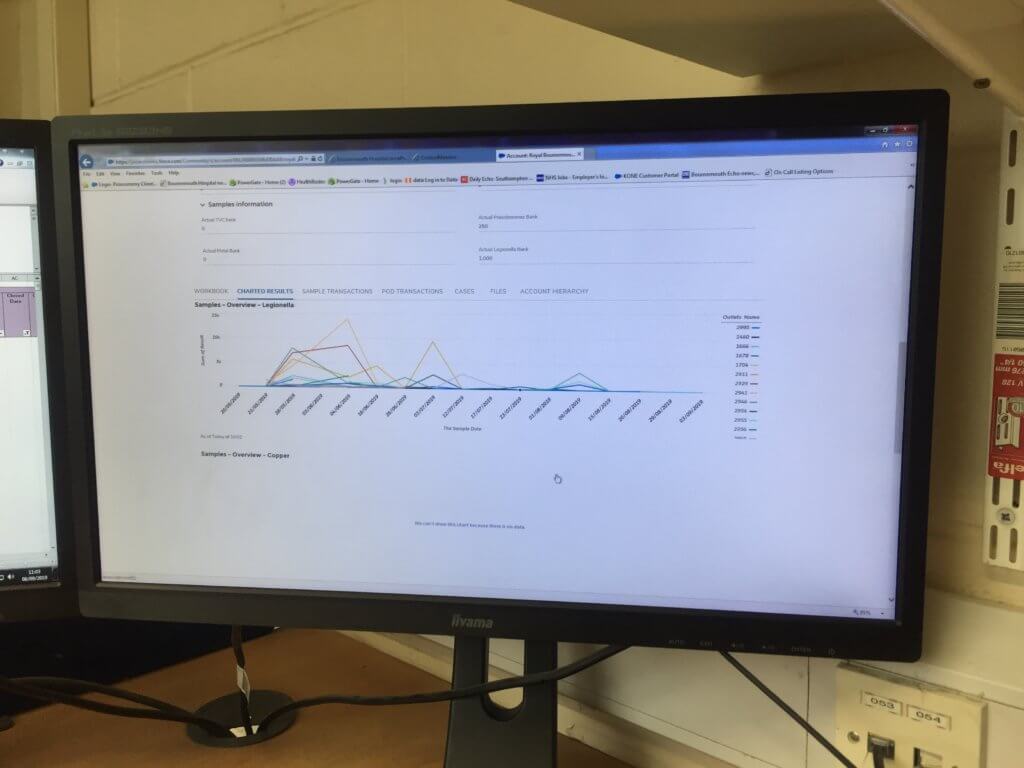 "We asked to see a Tetras reference site and visited Great Ormond Street Hospital, meeting the head of estates. His endorsement gave us the confidence that the system would do all that we wanted it to. I described the system to my line manager and the associate director. We also discussed it in a Water Safety Group meeting. We all agreed it was the way forward.
"As a department, we're ISO9001 registered. So, ProEconomy had to go through our normal qualification procedure – insurance, references, etc.
"The water consultant, infection prevention and control and I agreed on the core areas we wanted to monitor for Legionella and Pseudomonas, including some sentinel points, based on any issues."
Peter says: "ProEconomy came to site and we did an induction with their engineers, agreeing a format for barcoding the outlets that were sampled. They have assigned a barcode to all the existing outlets but only applied them to the ones which they are currently sampling. Once that was completed, with some assistance from our maintenance staff, they began sampling.
"We buy 'units' in advance – the number of samples required – based on our historical data, before the work is done. As the system starts to work and we compile the data, we can reduce the sampling and sample only areas of concern.
"With Tetras, we're paying the same as with the previous water sampling, so for us it was cost neutral. There was no costing exercise to go through. However, with Tetras we have the added benefits of it being available on the desktop in real-time and the graphical analysis. Plus, the service and support from ProEconomy is very good, very efficient."
Peter explains: "ProEconomy began sampling in May 2019. Each week they are sent a list of the outlets where we'd like samples taken. They're on site weekly. An engineer arrives first thing Monday morning and takes a mix of Legionella and Pseudomonas samples from outlets across the trust, at both Royal Bournemouth Hospital and Christchurch Hospital. Some outlets are regularly sampled. Others are on a cycle based on risk and susceptibility. They take twenty to thirty samples a week. It costs £20 a sample. ProEconomy arranges the analysis at UKAS accredited laboratory.
"From the Tetras information on the desktop, we know in real time what's been sampled and the ones we're awaiting results from. Pseudomonas results are received in a few days. Legionella samples take about two weeks.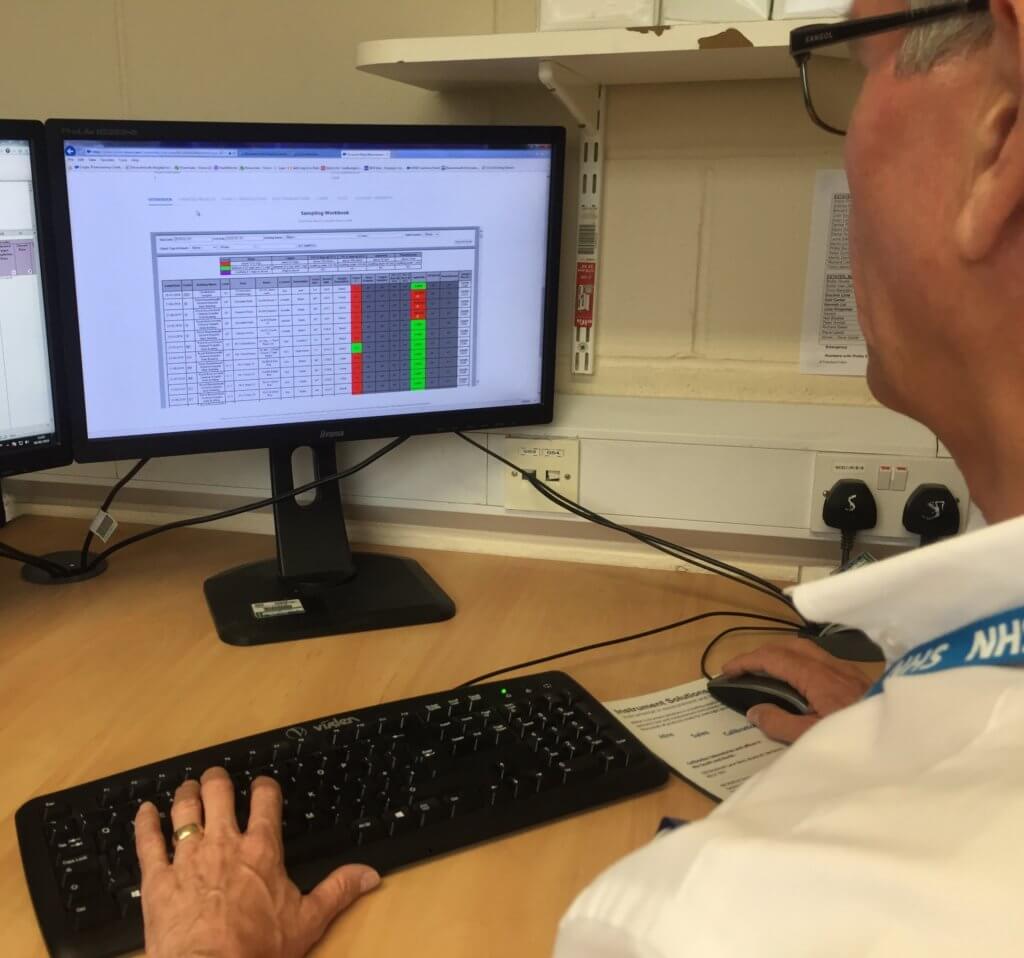 "Tetras is a live, cloud-based database. We receive notification e-mails and escalation if required. My plan is to roll it out to infection prevention and control and to the consultant microbiologist, so they can look as and when they want.
"ProEconomy are very good at the communication side of things," says Peter. "I've met our customer relations manager, Diego Jimenez, on a number of occasions. We've spoken about developments to the system. Like any new system, there were a couple of minor issues initially, but these were sorted very quickly.
"There's a graph of results, positive samples, remedial works done and whether the work was effective or not as the case may be.
"My director loves the charted graphs. We can do this per outlet if required. The outlets are currently listed by number. The system will be enhanced so that they are shown by the name of the outlet – it's actual location. We can do trend analysis. We can log cases and produce a history of remedial works. That's our next step forward.
"Tetras will also link to ZetaSafe compliance technology. We don't have ZetaSafe currently, but we are investigating it. We run Planet FM for maintenance. Tetras is paperless and our aspiration is to go paperless as a department."
Peter adds: "We have a very good relationship with ProEconomy, every member of their team. Their engineers are as I like – they come to site, cause no problems and I get the results. We'd don't have any input. They know what they are doing. There's no need for estates to spend any time on samples and the results are on the desktop. I can spend my time with maintenance. It's been easier with the escalation benefit. Infection prevention and control say the information is enhanced.
"It would have cost at least 50% more if we'd gone to a UKAS accredited laboratory ourselves. It's also time saving, freeing-up estates maintenance engineers for other essential work.
"The access to information, the graphs, it's the way forward. It's not cost us anything for a better system. There's no work involved on our part. The Tetras system and ProEconomy do it all.
"It's all about the safety of the patient, creating a safe environment. Water is key to that. Tetras is innovative, the next step. I'd happily recommend it to anyone else."
For more on ProEconomy's Legionella sampling and management system, call 01525 854111 or e-mail enquiries@proeconomy.com.