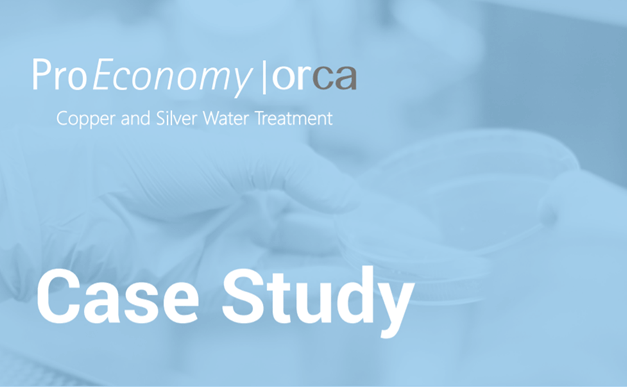 In addition to treating Legionella in hospitals ProEconomy's Orca system has been successfully treating water and controlling Legionella in cooling towers at the European Space Agency and in water systems at Baxter's Food Group. Below we discuss copper silver ionisation case studies for cooling towers and the food industry.
Copper Silver Ionisation Case Studies
Water Treatment For Cooling Towers
Cooling systems offer optimum habitats for the growth of microorganisms, including Legionella. This bacteria can then spread via aerosols and cause Legionnaires' disease. Consequently, by law,  cooling systems should have a proven control system in place to prevent contamination.
European Space Agency (ESTEC)
The European Space Agency (ESTEC) were previously using the Nalco 2510 and Aquazur CW-434 biocidal chemicals to control Legionella. However, in 2004 ProEconomy's Orca system began treating the water supply to their GN chiller.
Prior to the installation of The Orca L. pneumophila counts were high at 5766 cfu/L. Similarly, TVC counts were also high pre-installation with a mean value of 675 (37 degrees) and 434 (22 degrees).
However, following installation of the Orca system, TVC and Legionella counts steadily began to decline. Now, sincle 2013, there have been no Legionella positives, proving that The Orca Copper Silver Ionisation system has successfully controlled Legionella in cooling towers at the ESTEC.
ProEconomy are currently monitoring and cleaning the system as part of our service contract and dedication to Legionella control.
You can read more about this copper silver ionisation case study here. 
Water Treatment For The Food Industry
Legionella in industrial water systems can be highly dangerous for workers inhaling water droplets containing Legionella. Consequently, as with all water supplied to public buildings, water treatment for the food industry is highly important.
Baxter's Food Group
Following two cases of Legionnaires' disease in 2005, ProEconomy's Orca system was installed at Baxter's Food Group plant in Scotland in 2007. The Orca system is currently treating water used to wash vegetables.
Unfortunately, it was not possible to obtain data before the installation of the Orca system. However, since installation over 1000 samples have been analysed and there have only been three positive results for Legionella.
We are continuously monitoring our copper silver ionisation system at Baxter's, however, so far it is completely controlling Legionella at the industrial site.
You can find out more about Baxter's copper silver ionisation case studies here.