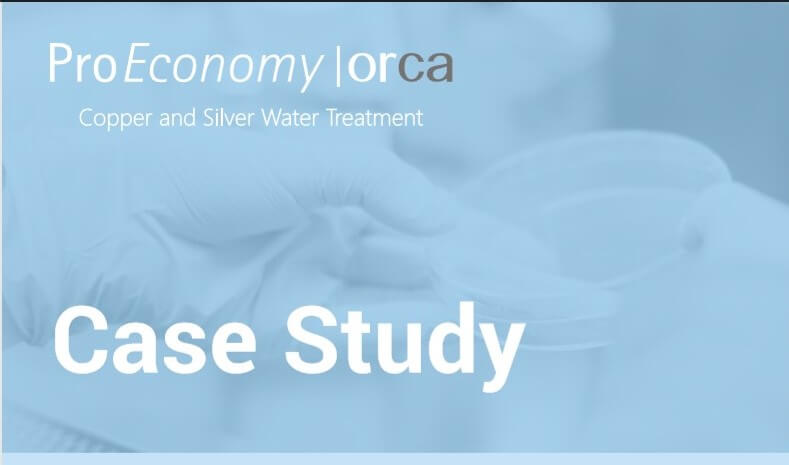 At ProEconomy, our copper and silver ionisation system, The Orca, has been successfully controlling Legionella at prestigious industrial and commercial sites across Europe for over 25 years. Most recently, we have had further success treating water at a range of UK hospitals. We have therefore added to our extensive list of happy clients, case studies and proven Legionella control results.
The Water Treatment Process
After clients contact our sales team regarding our water treatment service, we complete an initial site survey evaluating what size of Orca system best suits the site.
Following these initial consultations, we will take pre-commissioning samples of outlets that are identified as being at risk of Legionella contamination.
After the installation of The Orca copper silver water treatment system, our water treatment engineers will return to take monthly samples. These samples are sent for analysis at an independent laboratory to check for the presence of Legionella and to determine copper and silver concentrations in tanks and at the outlets.
Legionella Control Results
It is this dedicated water treatment and management process that has successfully controlled Legionella, Pseudomonas and other water borne pathogens in our clients' premises, including the most recent case studies below.
Birmingham Heartlands Hospital
Birmingham Hospital is a 700 bed hospital which has a mixed-age infrastructure. Before 2007, the hospital were using a temperature regime that is compliant with HSE and DoH guidelines for controlling Legionella. However, when they introduced testing they found that Legionella was present.
To address the problem, the whole site was treated with sodium hypochlorite. However, they were keen to get away from using chemicals for COSHH and cost reasons. Furthermore, hypochlorite was not effective at eradicating Legionella or biofilm.
Alternative methods were then examined, including copper and silver ionisation (CSI). Hospitals using the ProEconomy Orca CSI system were visited and all said it worked and was cost-effective.
Before the installation of an 18-pod CSI system in October 2007, 50 pre-commissioning samples were analysed and 21 returned positive results ranging from 100 cfu/L to 9800 cfu/L. Within one month of installation only 5 samples returned positive, ranging from 100 to 2000 cfu/L.
There was continuous improvement in the subsequent results and by March 2008 all samples were completely clean. A further advantage of reduced TVCs levels was also seen in areas previously known to have high levels.
ProEconomy's solution was so successful at Heartlands that within seven months it was installed at Solihull and Good Hope Hospitals.
You can read more on Birmingham Heartlands Hospital's legionella control results here.
Churchill Hospital
The Churchill Hospital (part of the John Radcliffe, Oxfordshire) is a teaching hospital in Oxford, England. ProEconomy's water treatment system and monitoring service was installed in 2014.
Before the CSI system was activate, pre-commissioning samples were taken from 16 outlets identified as being at risk of Legionella contamination. There was evidence to identify that Legionella posed a significant threat to the hospital.
After activation of the CSI system, samples were taken every month from 9 to 20 outlets that were at risk of Legionella contamination. ProEconomy and the hospital were satisfied that Legionella was being controlled. Therefore, the number of outlets sampled was reduced to 11 outlets and then to six outlets sampled monthly in the past year.
As of August 2016, Legionella has been totally eradicated from the Churchill Hospital. However, ProEconomy's water sampling engineers still return to carry our regular monitoring and maintenance as part of our service agreement.
As a result of these Legionella control results, ProEconomy is providing Legionella control to the whole of the John Radcliffe Hospital.
Read more about this Copper Silver Ionisation success story here. 
Derriford Hospital - Tower Block Building
Derriford Hospital is a large teaching hospital run by the Plymouth Hospitals NHS Trust.
After hearing of the success of ProEconomy's Orca copper and silver ionisation system at other hospitals, Derriford Hospital chose to install the Orca system at their main tower block building in 2012.
Before installation, pre-commissioning samples were taken from 62 outlets identified as being at a risk of Legionella contamination.
2,604 samples have been taken since the Orca was first installed. Overall, the Orca CSI system is successfully controlling Legionella in the hospital drinking water. Furthermore, Legionella levels have been kept to below 5% in samples between January 2014 and December 2017.
Our advanced service ensures that effective concentration levels of copper and silver in the Orca system are maintained. Consequently, this guarantees better control of Legionella.
Read more about Derriford's Legionella control results here.
Eastbourne Hospital
Eastbourne District General Hospital is part of the East Sussex Healthcare NHS Trust. The hospital follows strict infection control procedures. This includes the use of the copper and silver ionisation system to prevent bacteria growth in the water system.
Out of 50 pre-commissioning samples measured in 2008, 49% of samples were Legionella positive. After installation in 2012, around 20 samples were collected every month in outlets and analysed for L. pneumophila. Adding to this, around 5-10 samples were collected every six months and analysed for P. aeruginosa.
L. pneumophila and P. aeruginosa have been very well controlled after the water treatment system was applied. The overall percentage of positive detection has declined. Our continuous monitoring and sampling will be vital for long term L. pneumophila and P. aeruginosa control.
Read more about ProEconomy and Eastbourne District's water treatment case study here.
Good Hope Hospital
Good Hope Hospital, the heart of England NHS Foundation Trust, serves North Birmingham, Sutton Coldfield, and Southeast Staffordshire.
Healthcare associated infections (HCAI) control is the priority for the patients' health in the Trust's agenda. Therefore, a full risk assessment of contaminated water to patients' health was undertaken. This reviews the importance of using copper and silver ionisation to control waterborne bacteria in hospital water systems (Infection Prevention and Control Annual Report 2012-13).
In 2008, 50 pre-commissioning samples were collected and analysed, with 22% containing L. pneumophila positives. After the installation of ProEconomy's CSI water treatment system in 2011, 25 samples were collected every month in hospital outlets to test for L. pneumophila. Furthermore, the sample collection for P. aeruginosa started in 2013. Around 30-80 samples were collected every six months for P. aeruginosa analysis, if previous test had found no infection. If the outlet had positive P. aeruginosa samples, it would be monitored every couple of days until no infection was detected.
The copper and silver ionisation Orca system has had a significant effect on both L. pneumophila and P. aeruginosa over a long period of time in the Good Hope Hospital water system. No L. pneumophila has been detected since 2017 and very low P. aeruginosa positives have been detected.
Read more about these Pseudomonas and Legionella control results in our full case study. 
Solihull Hospital
This 350-bed hospital is a smaller site with newer buildings than Birmingham Heartlands. As was the case with Heartlands, a temperature regime was the sole Legionella control measure which was difficult to maintain. Mixing valves had to be fitted and rubber lined flexible hoses and rubber fittings were attached to several outlets. Water stagnation was also possible due to poor use of outlets and ward closures. These are ideal conditions for Legionella proliferation.
Following the success of the Orca at Heartlands, one copper and silver ionization system, with eight copper and four silver electrode chambers, was installed in January 2008.
Prior to installation 30 outlets were sampled, including hot, cold and blended outlets. The results show counts ranging from 100 cfu/L to 5,900 cfu/L and that seven out of 30 outlets (23%) tested positive for Legionella, including four outlets where water temperature was below 20 °C.
One month later, these seven outlets were re-sampled, together with a further eight outlets identified as being at risk. Only one, an original positive, shows the presence of Legionella, and even here the level had fallen from 2,200 cfu/L to 200 cfu/L.
Results for the last six years demonstrate the level of control exerted by the Orca system. There were occasional low counts (100-300 cfu/L L. non-pneumophila) between 2011 and 2013, with one 900 cfu/L np count in April 2012 and one 600 cfu s2-14 in April 2014. However, no Legionella has been detected for the past 3 years (April 2014 - April 2017).
It is these results, and the fact that The Orca has never failed to control Legionella in a clients' premises, that has developed ProEconomy's reputation within the UK's NHS and the European health sector. You can read more about our legionella control results here. Alternatively, contact a member of our team to start your water treatment journey today.