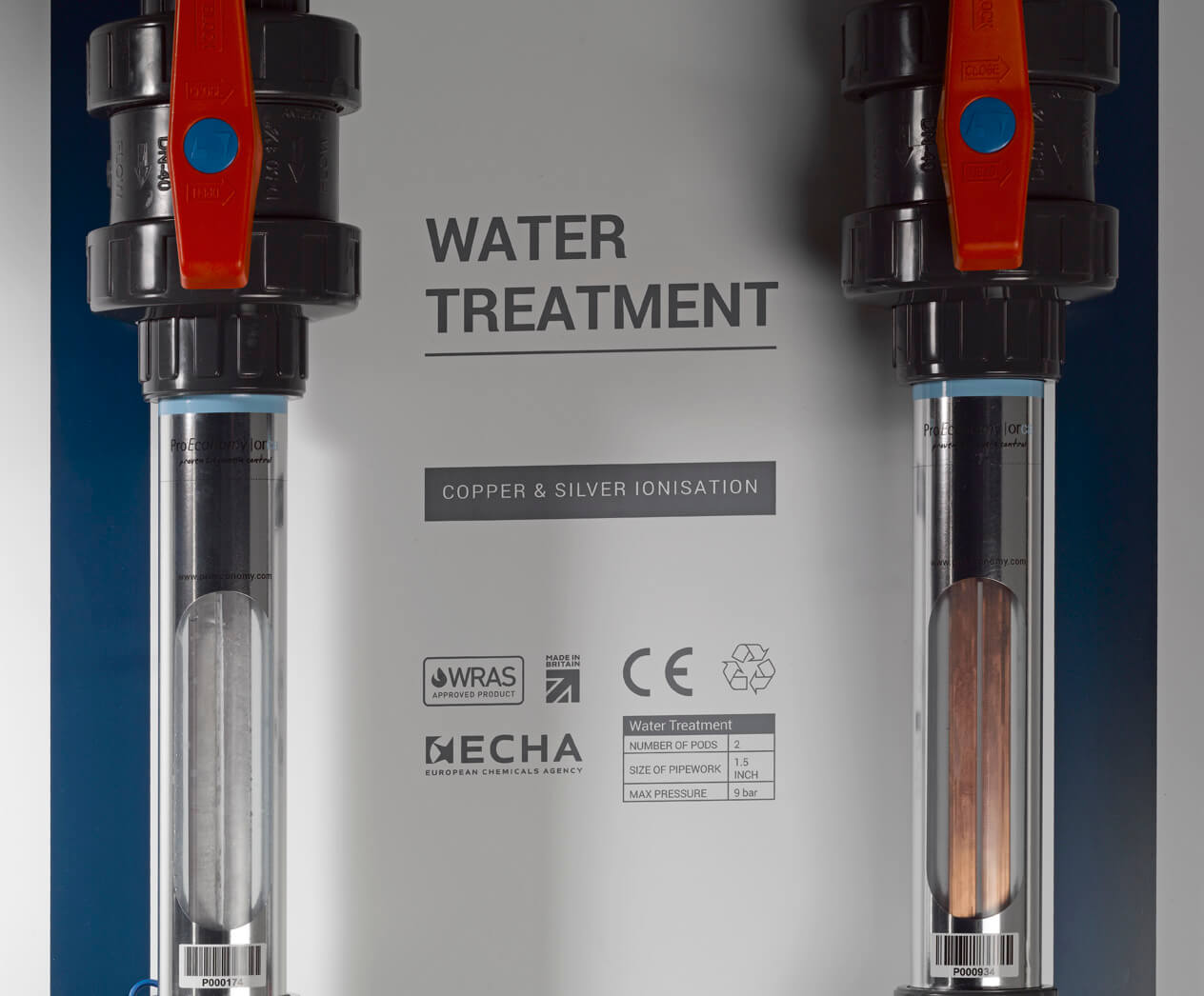 Our Orca copper silver ionisation system is effectively controlling Legionella safely and compliantly at industrial and commercial sites worldwide. However, as a relatively new water treatment modality, the facts about copper silver ionisation are not yet well established. Therefore, in this blog post we dispel copper silver ionisation myths and instead put forward the facts about this Legionella control modality. 
Copper Silver Ionisation Myths
Corrosive To Pipework
Many potential clients ask us if the metal ions of copper and silver are corrosive to pipework. The simple answer is no. However, to reassure our clients, we collaborated with University College London to produce a study report on the effect of copper and silver ions on pipework.
Unlike other chemical water treatment methods, the Orca water showed a negative corrosion rate during the study. To find out more, you can read the full study report here. 
Copper Silver Ionisation vs Silver Hydrogen Peroxide
Sometimes people get confused with these two water treatment systems. Therefore, we will take this opportunity to point out the huge difference between copper silver ionisation and silver hydrogen peroxide.
The concentrations of silver salts (not ions) used in silver hydrogen peroxide are between 8 to 12 mg/L. However, the levels of silver ions released into the water by the Orca system are very low, 0.02 – 0.08 mg/litre, less than a hundredth of that used in silver hydrogen peroxide.
Therefore, unlike silver hydrogen peroxide, copper and silver levels are well below guideline concentrations with the Orca system.
Banned By The EU
As the copper industry hadn't formed a task force, as required by the Biocidal Products Directive, copper was taken off the market in 2012. However, since then, a task force has been set up, with ProEconomy a founding member. Therefore, in 2014, the Official Journal of the European Union granted the UK essential use derogation for the use of copper in Legionella control in product types. Consequently, this means that copper is now fully legal and compliant for use in Europe. 
At ProEconomy we are also in the Article 95 listing for both copper and for silver. Essentially, this means that we will not be affected by the Biocidal Products Directive September 2015 deadline. Therefore, we will be able to continue to use their product to successfully control Legionella and Pseudomonas bacteria in water systems throughout the UK.
Not The Preferred Method Of Legionella Control
In the UK, there is no preferred method of Legionella control.
Instead, the HTM04-01 (2016) states that temperature control is the traditional method applied for the control of Legionella in water distribution systems. However, many premises use temperature control together with an additional modality, including chlorine dioxide and copper-silver ionisation, to control Legionella and other pathogens in water systems.
Not As Effective As Other Water Treatment Methods
Our Orca copper silver ionisation system has never failed to control Legionella at any of our sites worldwide. In fact, we have controlled Legionella, Pseudomonas and other water borne pathogens at sites where other water treatment modalities, such as Chlorine Dioxide and Temperature Control, have failed.
Plus, unlike other water treatment modalities, copper silver ionisation effectively removes biofilms. This is essential for effective Legionella control and to prevent bacteria recolonising.
You can view a comparison of water treatment methods here. Alternatively, you can read our Legionella control case studies here.
We hope this blog post has helped to eradicate some long standing copper silver ionisation myths However, if you would like to find out more about copper silver ionisation and effective Legionella control, contact our team.