By our guest blogger Dr Vera Barbosa
What Is the Legionella and Environmental Action Platform (L.E.A.P.)?
I have been attending the Legionella and Environmental Action Platform (L.E.A.P.) event for the past two years. See my previous blog about last year's event and one about the first LEAP event I attended.
The event is really useful for Estates people, duty holders and anyone responsible for the control of Legionella and other dangerous bacteria in their building's water systems.
Legionella is a very important microorganism because it poses danger of death to those infected if they are very young, over 50 and especially males, smokers and those with weakened immune systems. Contamination occurs when we inhale Legionella contaminated water droplets/sprays from splashes and showers sprays, but not through drinking the contaminated water. It is especially dangerous in a hospital water system and all hospitals in the UK are required to have a Legionella control measure in place.
LEAP 4
This year, LEAP 4 takes place in a new venue, which I'm sure will be just as exciting and functional as the previous venue in Milton Keynes. The new venue is the Society of Chemical Industry (SCI) auditorium in Belgravia, London. The event will take place on Wednesday 21st June 2016, from 9:15 to 16:45.
Speakers and experts participating in the LEAP 4
John Newbold (Former Principal Specialist Inspector for the HSE)
Dr Mark Garvey (Principal Clinical Scientist in Infection Control for the University Hospitals Birmingham NHS Trust)
Dr Birgitta Bedford (Technical Director for ProEconomy)
Prof. Clive Thompson (Chief Scientist at ALcontrol Laboratories)
John Murray (Compliance Manager for Sodexo UK)
Mike Ralph (Head of UK Engineering at Sodexo UK)
Dr John Cunniffe (Head of the Dept of Medical Microbiology, Wirral University Teaching Hospital)
Peter Holland (Estates, S Boroughs Partnership)
Claire Hennessy (Head of Operational Estates and Facilities Services at Oxford University Hospitals NHS Foundation Trust)
John Foxall (Estates, Kidderminster Hospital)
Dr. Lena Ciric (Lecturer in Environmental Engineering, Environmental Systems Engineering MSc Programme Director, University College London)
Dr Elaine Cloutman-Green (Principal Clinical Scientist, Great Ormond Street Hospital).
UCL-ProEconomy Research Collaboration
Dr. Lena Ciric will be presenting the results of a research collaboration between University College London and ProEconomy, which I had the privilege to coordinate. The projects in the collaboration investigate:
The effectiveness of copper and silver ionisation for the removal and prevention of biofilms formation.
The effects of copper and silver ionisation on different surfaces such as ceramics and medical equipment.
Effectiveness of copper and silver ionisation on Pseudomonas aeruginosa.
Energy and carbon savings related to reducing water temperatures at hospital facilities due to the implementation of a copper and silver ionisation system.
Besides the speakers session, the unique L.E.A.P. format of table sessions will be taking place in the afternoon as well.
The new Water Hygiene Endeavour Awards will also take place towards the end of the event. See more details here.
ProEconomy's Charity Work
Each year the sponsorship money is given to a deserving charity, which makes it an even more worthwhile event. Previous charities supported are WaterAid and Daktari Wetu. This year the chosen charity is Caminos de Agua, which is a charity that promotes rainwater harvesting ensuring rural communities in Central America, including Mexico, Honduras and the Dominican Republic, have access to safe water for their families.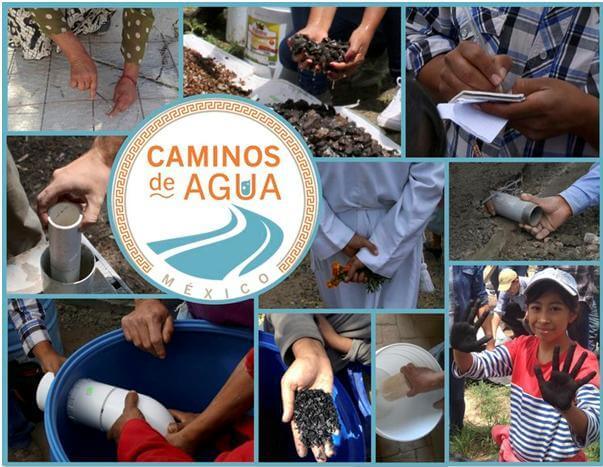 Previous LEAP Events
Don't just take my word for it! Here is feedback from some previous L.E.A.P. attendees:
'This was a brilliant event. The discussion groups worked wonderfully. It was extremely informative, interesting and engaging. The room was full of very knowledgeable people in a large variety of areas of water quality, all happy to share their knowledge and experience. Looking forward to the next one!'
'Have benefited from the like experience from others in the groups and will go away with options to explore.'
'Very enjoyable event where I have learned on-going day to day operational issues within healthcare and the importance of correct designs.'
'I went last year, it was a great event!'
L.E.A.P. 03: What I Learned
A study on P. aeruginosa contamination in a UK hospital found different strains in different patients affected, suggesting the contamination did not come from the same source, which makes it very hard to find the sources. The study also found that a water strain was the same as that found in a patient affected by Pseudomonas.
If patients are admitted with community acquired pneumonia, they're treated with antibiotics and are not tested for Legionella or Pseudomonas.
Mono-block taps are for residential use only. These shouldn't be fitted with rubber-lined hoses, since rubber-lined hoses are not allowed in drinking water supply.
Estates officers have to make sure systems fitters have a WRAS certificate and present it.
The Association of Plumbing and Heating Contractors lists approved plumbers (http://www.aphc.co.uk/find_an_installer.asp).
The HTM 04-01 asks hospitals to appoint someone to carry out day to day maintenance. The HTM Part A says you have to appoint a person to evaluate the risks and put a system in place to address the risks identified.
Wholesome water is water fit for human consumption which is supplied by your water companies.
Water coming into a hospital to a storage tank should be consumed with 24 hours.
Pseudomonas will grow at 4 ⁰C, so even though water temperatures between 5 and 20 ⁰C may be safe with regard to Legionella, it might not be safe in regard to Pseudomonas. I know, though, from my analysis of hospital data, that Legionella will survive and even grow at water temperatures between 5 and 20 ⁰C (see the abstract of the paper).
Coffee seems to taste better from a quaint mobile tricycle outlet.
CPD points and certificates are available for the one day LEAP 4 event covering waterborne pathogens.
Sponsorship packages are also available. This year's sponsors include ProEconomy Ltd, The Water Management Society and ALS Laboratories. Please see the website for details. http://waterhygieneevents.com
If you're interested in attending the LEAP 4 event, please contact enquiries@waterhygieneevents.com or get tickets here.