2018 has been a fantastic year at ProEconomy with new product launches, prestigious events, a Royal Warrant, Research Collaborations, a ProEconomy podcast and further success for our Orca copper silver ionisation system. Here, we take a look back at our company highlights from 2018.
Royal Warrant
Of course, the top of our highlights reel in 2018 has to be our Royal Warrant!
After several years of water treatment to the Royal Household, we received a Royal Warrant for water treatment services to Her Majesty The Queen back in March. We are extremely proud that our water treatment system has such prestigious recognition and see it as a testament to our exemplary water treatment service.
You can find out more about our Royal Warrant here. 
Tetras Cloud Based Water Management System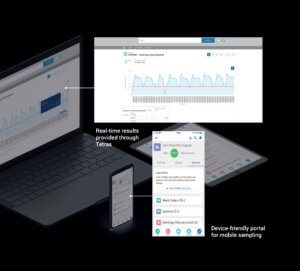 This year saw the launch our Tetras Cloud Based Water Management System. This system revolutionises the way water samples are collected, tracked and analysed. With on-site tracking, the latest lab sample technology, real-time results GPS technology and our 25 years of experience in water sampling, Tetras ensures that we detect water issues early. Therefore, this ensures clients can treat and manage them before contamination occurs.
Plus, clients can now log in to their easy access portal via the ProEconomy website to trend results, view pod transactions, create custom alerts and raise a case to investigate problems with their system.
Our advanced water sampling system comes free with the installation of our Orca copper silver ionisation system to help clients manage their sites and achieve full compliance.
To request a free demo of Tetras, contact our team.
First Point Of Use Copper Silver Ionisation System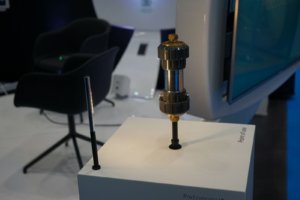 At Healthcare Estates 2018, we launched the first point of use copper silver ionisation system on the market.
After three years of research and development, we developed RAY, a revolutionary system that is ideal for protecting specific outlets from Legionella and Pseudomonas.
The ProEconomy Podcast
At ProEconomy we're committed to ongoing research around Legionella control and discussions around water treatment methods. That's why we launched the ProEconomy Podcast in 2018. 
So far, we have spoken with George Kent, Jonathan Waggot, Nick Barsby and Matt Morse discussing copper silver ioinsation, commercial water testing, Legionella control and outlet issues.
Listen to all of our podcasts here and stay tuned for more interesting discussions in 2019!
Free Water Treatment Site Survey
As part of our commitment to safe water and Legionella control we began running our free water treatment site survey in 2018. Using our advanced water sampling technology, our water treatment survey detects any water quality issues. Meanwhile, our engineers can offer advice on Pseudomonas and Legionella control with our Orca copper silver ionisation system and Tetras water management system.
If you are worried about the efficiency of your current water treatment system or water quality issues at your site, contact us to arrange your free water site survey.
Prestigious Events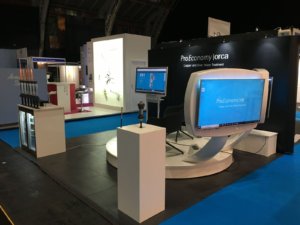 Industry events are a large part of our year at ProEconomy and 2018 was no different! We were delighted to exhibit at a wide range of prestigious events this year including, Healthcare Estates, London Build and University and Healthcare Estates and Innovation. Our events calendar even led us abroad with a presentation at SoPHE Technical Presentation Evening in Dubai.
Events are a great chance for us to talk to our target audience and see what they really want from a water treatment company. Plus, they are a great platform for us to spread the word about our excellent levels of customer service and proven water treatment modality.
Keep an eye on our social media pages and blog for announcements about our 2019 events.
Further Success For Our Orca Copper Silver Ioinsation System
Our Orca copper silver ionisation system has been successfully controlling Legionella for over 25 years and 2018 was no different! Our commercial and industrial sites can be assured that they are running a compliant and safe site with our water treatment modality thanks to our proven track record of Legionella control. Plus, our high level of service guarantees that potential 'problem' outlets are handled quickly to ensure a well managed, compliant site.
We are also extremely proud of our new installs this year, including Chase Farm Hospital and Aqua Protec.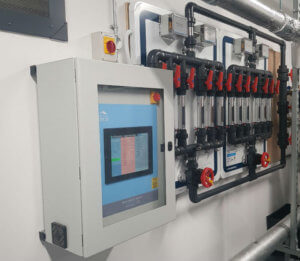 London Showroom
After months of hard work and preparation we unveiled our new showroom at The Building Centre, London in July. The showroom provides a snapshot of our water treatment service while our expert team are on hand to answer any of your questions and demo our water treatment system.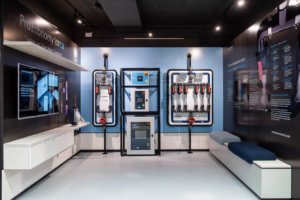 Visit us at The Building Centre and find out how our water treatment and monitoring service can help you.
Exceptional Staff
We would not have had such an amazing year without our staff and their commitment to water treatment. From sales executives to water treatment engineers, our staff work tirelessly to ensure we maintain our high levels of service and control Legionella at over 200 sites worldwide.
If you would like to find out what it's like to work at ProEconomy, read our interview with sales engineer Simon Murawski. 
Research Collaborations
ProEconomy is one of the very few water treatment companies that engages in intensive Legionella research. Dr Birgitta Bedford supervises our research department which frequently collaborates with universities, such as UCL and King's College. Consequently, we provide cutting edge evidence on copper silver ionisation as well as continuously developing our Orca system.
We are also members of the Copper and Silver Association where we are able to share articles, theses, scientific publications and reports on the efficacy of copper and silver ionisation.
2018 has been an exceptional year for ProEconomy and we are excited for the developments to come in 2019. We would like to thank all of our clients for your continued support this year and look forward to continuing our work with you all next year.
Finally, the only thing left to say is a massive Merry Christmas and Happy New Year from everyone at ProEconomy. See you in 2019!